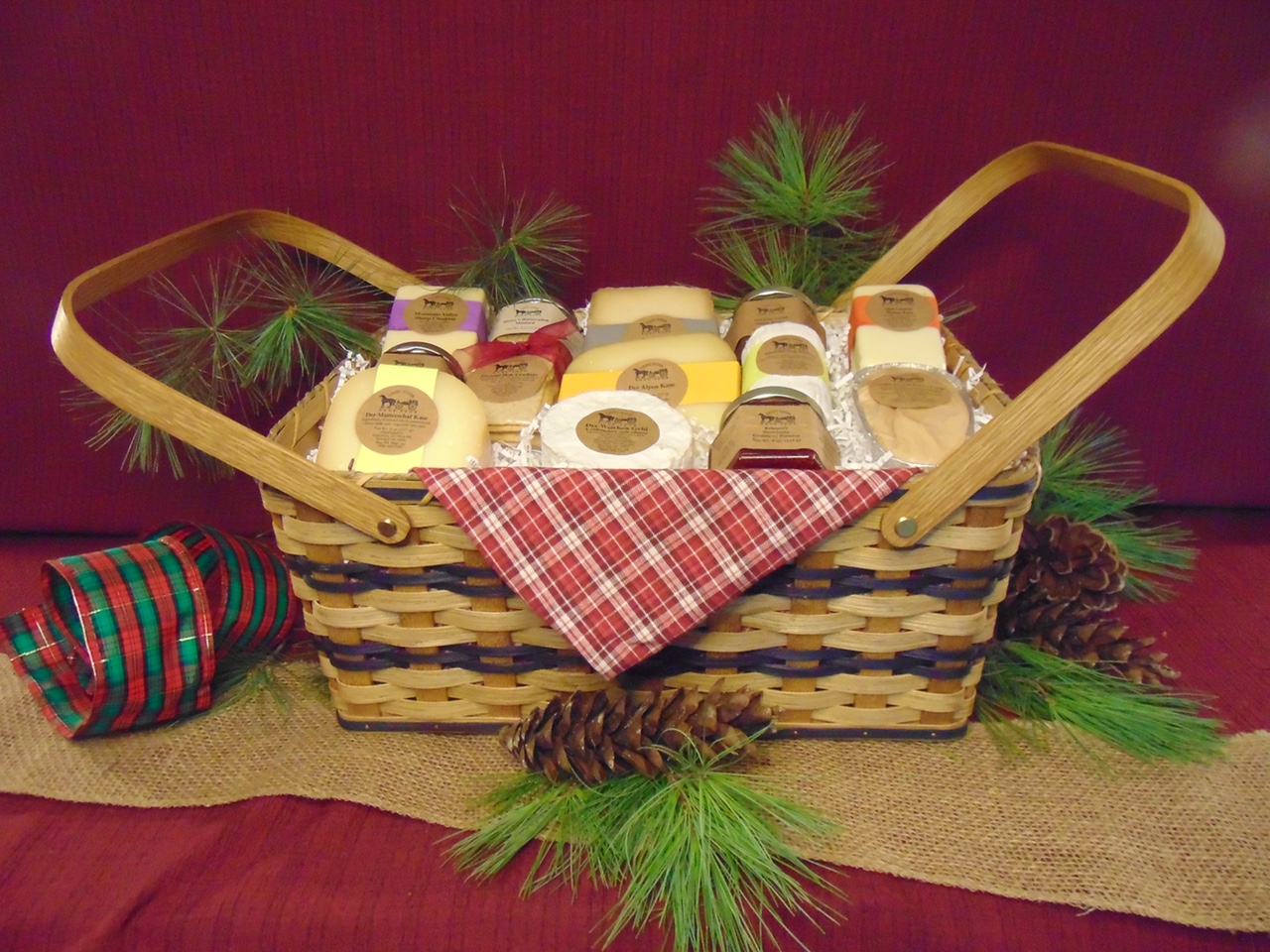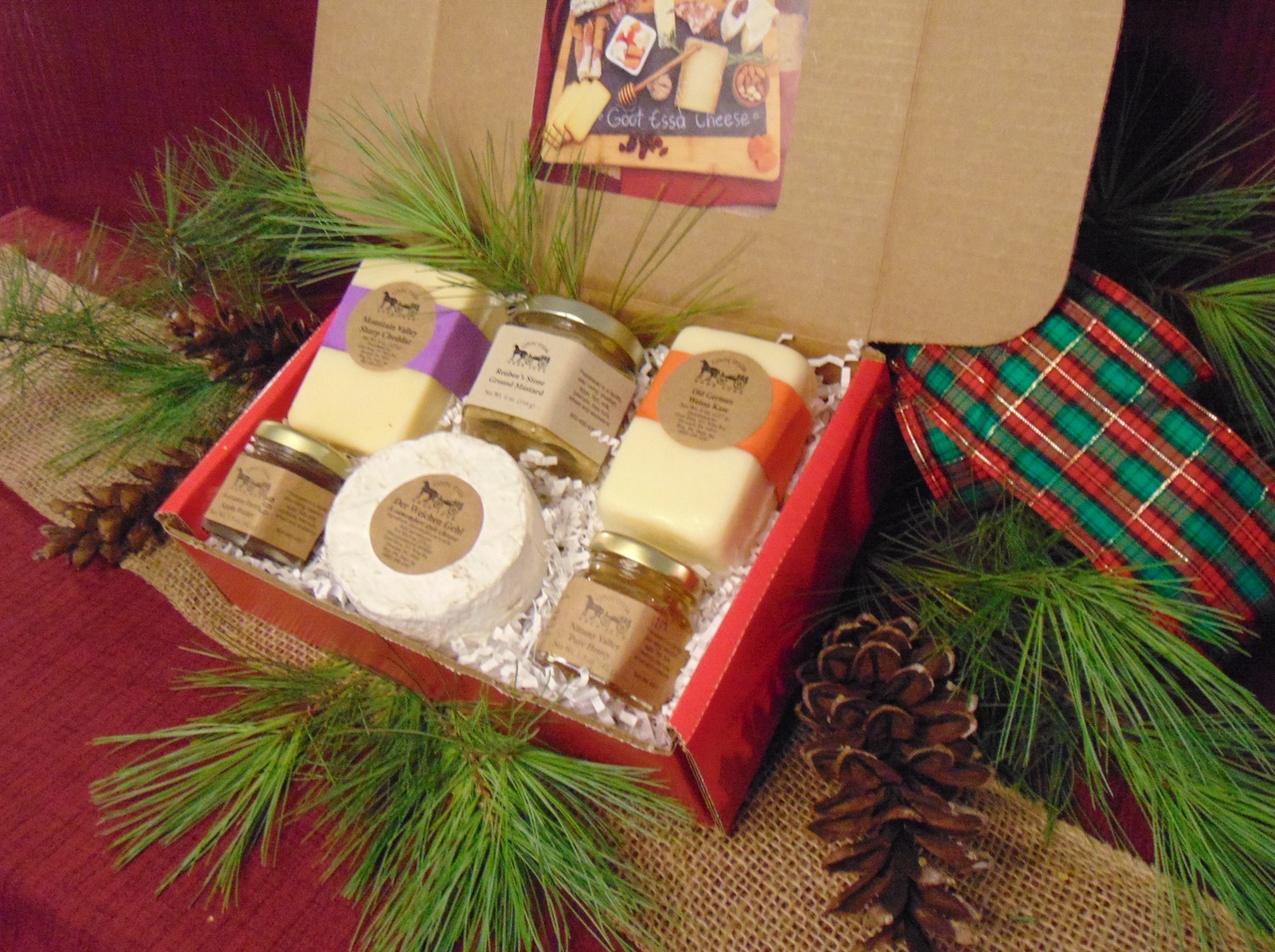 Let Goot Essa help you make this a memorable holiday season with our all-natural, gourmet cheese and condiment assortments.
Why Goot Essa cheese?
Some of the finest restaurants in Washington DC, Philadelphia, and New York feature Goot Essa cheese on their cheese plates and charcuterie boards. Suffice it to say that with an established reputation for quality cheese, Goot Essa products are preferred by some of the best chefs in the United States. You may also have encountered Goot Essa cheese at your favorite winery. Got Essa products are hand-made, all-natural and packaged to give our clients the peak of natural flavor that is consistent batch after batch. Our cheeses are aged in our on-farm cave to perfectly meld those subtle flavors. You can be assured that your purchase of Goot Ess cheese will be well appreciated by recipients as a gift of great taste.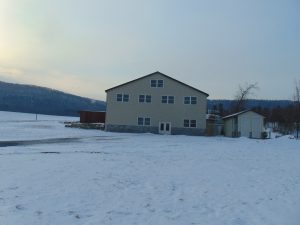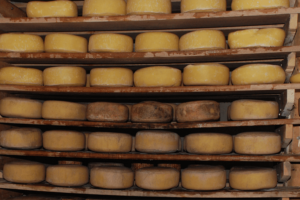 What is the Goot Essa Holiday party plan?
The Goot Essa Holiday Party Plan is ideal for employers who canceled or greatly curtailed holiday party plans due to COVID-19, but still want to recognize and appreciate valued employees and associates. Through the purchase of gourmet-quality gifts at special prices, businesses of all sizes can still share the joy of the season with their teams. We want our friends to be able to share the joy of giving while providing some of the best food in the world.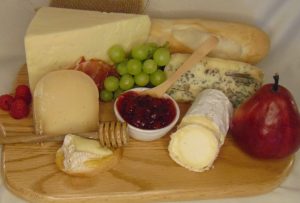 What does Goot Essa offer?
By ordering from Goot Essa, businesses can send gifts directly to their employees. Six different assortments are available, fitting every budget and taste. Assortments include a customizable gift tag message, and any extra Goot Essa products you wish to add. Pairing guides provide ideas on how to best enjoy Goot Essa cheese. We ship* to any address within the United States. *Assortment pricing does not include shipping costs, which vary depending on recipient location.
How Do I Order?
Start by choosing an assortment, or, you can customize an assortment. Please make sure to provide the appropriate shipping addresses for each assortment, and include a personalized gift tag message. Messages can be individual to each gift if needed. You may also included a holiday card from your company or company executive.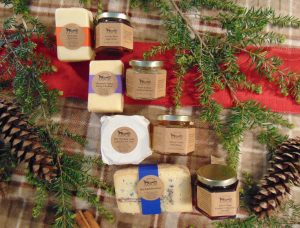 Customization means you can substitute cheeses in the assortment with any of our other cheeses. You can add meat to your selection, including prosciutto or jamon serrano, chorizo, salami, ring bologna or small canned hams. These meats are available at an extra cost, and may incur extra shipping charges. You can also add other company-related gifts, as well as a custom Goot Essa calendar with Amish painted themes.
Our desire is to help you as much as possible.  We offer volume discounts as well as discounts on shipping to one address. Please call Steven (814-482-1353) or Carolyn (800-490-4387) for full details and to discuss and changes you want to make or products you wish to add.  We are here to serve you in any way we can and ensure an enjoyable gift giving experience.
Happy holidays from all of us at Goot Essa.
What we can offer?
We have 19 different cheeses:
Soft Cheeses
Der Weichen Gehl Kase—meaning soft yellow in Pennsylvania Dutch, a camembert style—a rich earth flavor that begins with a deep butter flavor and finishes with a smooth nuttiness
Emanuel Vom Tal Kase—meaning Emanuel from over the valley, Emanuel being one of our shepherds—a bloomy rind sheep cheese, a complex flavor with hints of grass and a deep cream
Marn Vom Berge Kase—meaning Mary from over the mountain, Mary being the daughter of the goat herder—a bloomy, ash-rind goat cheese—this subtly flavored goat cheese is great as an appetizer and better yet as a dessert cheese
Semi-Soft Cheeses
Old German Weissa Kase—meaning German white cheese, a butter flavored washed curd cheese—a rich smooth finish
Der Mutterschaf Kase—meaning mother sheep cheese in Pennsylvania Dutch—a sheep cheese with a bit of bite, but a wonderfully complex flavor of grass and earth
Der Gouda Kase—a flavorful goat gouda, mild but with the complexity of goat cheese—a rich smooth finsih
Der Edel Bleu Kase—meaning the noble blue cheese in PA Dutch—a Stilton style blue cheese, a little drier and a little less salt than many blues—great as a dessert cheese
Traditional Cheeses
Mountain Valley Sharp Cheddar—our signature cheese and the pride of Isreal, our head cheese maker, aged 3 years, with a nutty flavor and pique bite; one of America's great cheddars
Mountain Meadow Mild Cheddar—the same recipe as the Mountain Valley Sharp but aged only a year; less intense but still a rich cheddar flavor
Der Vauden Swiss  -Vauden was the name of the town in Switzerland from which our ancestors immigrated; an Emmental-style Swiss, well eyed, with a complex flavor without the acidity of many Swiss cheeses
Hard Cheeses
Der Alpen Kase—meaning Alpine style cheese in PA Dutch; a wonderfully versatile cheese with an intense Alpine flavor and smooth finish—when heated it opens a whole other flavor profile
Felsa Yehr—meaning stone aged in PA Dutch; this is a manchego-style sheep cheese; the cave aging provides an earthy blend of flavors with a smooth lingering finish
Butta Schaf Kase—meaning the sheep butter cheese; a sheep cheese of delightful pasture flavors; a complex blend of earth tones
Alt Medisher Goat Cheese—means old fashioned goat cheese in PA Dutch; an intense aged gouda with a wonderfully complex blend of earth tones and a deep goat flavor
Flavored Cheeses
Mt. Home Woodsmoked Cheddar—mild cheddar, hickory smoked; goes well with all brews
Der Smoked Alpen Kase—our Alpen Kase, hickory smoked;
Savory Oregano—our mild cheddar infused with a blend of Italian spices
Garden Pepper Jack—a jack cheese with bits of garden raised red Jalepeño peppers; this cheese has a real bite;
Minced Garlic Cheddar—our cheddar mixed with real bits of garden raised garlic; goes great with brews; makes an excellent appetizer for those who really like garlic
Cheeses, generally available in 4 or 8 oz sizes. Exceptions are the bloomy rind cheeses (Der Weichen Gehl, 6 oz; Emanuel Vom Tal and Marn Vom Berg, 5.5 oz) and Der Edel Bleu (6 oz) are available in one size only. Also, Der Vauden Swiss is available in 7 oz and 4 oz sizes.
We have 12 condiments designed for eating with our cheeses.  All condiments, mustards, specialty products and fudges are hand-made in PA Dept. of Agriculture inspected and approved Amish kitchens.
Jams and Spreads
Dutch Treat Raspberry-Red Beet Spread—red ripe raspberries combined with the earthy undertones of garden raised red beets—a uniquely Amish product
Rebecca's Strawberry Cranberry Preserve—This is another unique Amish combination of strawberry and cranberry mixed with orange juice—great with any cheese
Aunt Ruth's Strawberry Rhubarb Conserve—strawberry and rhubarb, combined with hints of orange and lemon without being overly sweet—another Amish style product
Aunt Mary's Peach Jam—recipe comes from our Aunt Mary. The taste of this conserve is the warmth of a late summer morning in the sweetness of ripe peaches—made with local Pennsylvania peaches
Autumn Dawn Apple Butter—three different types of apples which are boiled down and combined with cinnamon, nutmeg, cloves, and brown sugar.
Nittany Valley Pure Honey—a taste of the trees and crops of central Pennsylvania-a unique taste unduplicated in the world
Mustards
Gideons Sweet Dipping Mustard—the taste is a fruity sweetness, balanced with hints of baked meringue together with the bite of vinegar and mustard
Sweet & Spicy Dipping Mustard—a mild horseradish flavor with a rounded sweetness with hints of molasses and white pepper
Henry's Horseradish Mustard—recipe is from the grandfather of our cheese maker—a coarsely ground mustard seed mixed with fresh garden horseradish—a sharp, but not overly spicy flavor
Reuben's Stone Ground Mustard—this recipe is from the Uncle of John Esh—the pique of coarsely ground mustard seed with a hint of cider and wine vinegar—a true, old fashioned mustard
Pickles
Open Crock Ice Pickles—deep green, crispy pickles with a vinegary beginning and a lingering sweet finish-
Tangy Pickled Beets—flavor highlighted by a bitter earthiness and a rush of vinegary acidity followed by a sweet finish
Specialty Products
Snowy Evening Cider Spice—natural, cold cider is a favorite drink of the Amish people and they make it all year long, but in the late fall and winter, they like to add special taste—just mix it with sweet cider
German Hefe Crackers—meaning yeast crackers in PA Dutch—an old recipe that imparts a special flavor when eaten with cheese on top; home made in an Amish kitchen
And five smooth and creamy fudges;
Grandma's Chocolate Walnut Fudge—a strong flavor of chocolate milk with shelled walnuts for a bit of crunch—the walnut taste lingers as the chocolate flavor fades
Old Fashioned Chocolate Fudge—a strong flavor of chocolate milk, undertones of vanilla
Zarbitter DarkChocolate Fudge—smooth texture with a German dark-chocolate flavor not overly sweet
Sunday's Best Vanilla Fudge—a strong vanilla taste; a bit sweeter than our other fudges—a favorite after church
Creamy Peanut Butter Fudge—creamy texture with a strong peanut butter taste—less sweetness than many fudges