Pennsylvania is rapidly losing farms. A U.S. Department of Agriculture census showed that over the five-year period from 2012 to 2017, 6,000 farms closed down, a 10% decrease. This census also showed a 6% drop in the amount of the state's total farm acreage.
The United States in 2022 is a tough economy to manage a family farm. Large corporations consolidate and control pricing. Large farms can make more product and sell it for cheaper. 
Family farms are a way of life. It's hard work, no doubt. But they are a way for families to work side-by-side, just like in any other small business. In order to stay in business, family farms must have an outlet to sell their product. That is one of the core missions of Goot Essa: to give our family dairy farms a place to sell their milk.
There's not too many places in central Pennsylvania that will consistently take goat milk, said Henry Wengerd, of Tyrone, who manages a goat herd of about 55 and is one of Goot Essa's milk suppliers. He said selling milk to Goot Essa allows him and his family to pay their bills and live the farming lifestyle they want to live.
"There was a time we didn't have a market," Wengerd added. "It seemed hopeless for a while."
Recently, Wengerd said he has been shipping much more milk to Goot Essa, nearly twice as much as last year, he said.
"Something we really do appreciate about Goot Essa is they are dependable, you can trust them for their word," Wengerd said. "If they say they are going to use 'this much milk,' we can build on that."
Wengerd's goats have free access to pasture and are able to come and go from the barn as they please. He also grows some corn and oats for their diet and buys soybeans from an outside farm. When asked why he raises goats instead of the more common cow, he said that his family simply prefers goat's milk to cow's milk.
Wengerd is one of five farms (one cow, three sheep, and one goat) that supply the milk for Goot Essa's cheese, an outlet that allows these families to farm the way they want to and protect their lifestyle and values. Part of those values is the husbandry and careful handling of the animals. You won't find thousands of animals roaming a feedlot on our suppliers' farms. Another important aspect to the family farm is that each member of the family has chores and contributes to the overall success of the farm and the community. We believe in raising our children to be responsible, healthy adults with an appreciation for the hard work that goes into making a business and community thrive.
We are extremely proud of the fact that we are currently paying 10% above the market average to our milk suppliers. It's our hope to support a total of 10 farms by the year 2030.
At Goot Essa, we use our suppliers' high-quality milk to make many kinds of excellent cheese in small qualities, with individual attention to each batch to make sure every block of cheese that makes it to your home or business is up to our high standards. If we don't fulfill this promise to our customers, we won't be able to carry out our mission or our life's work.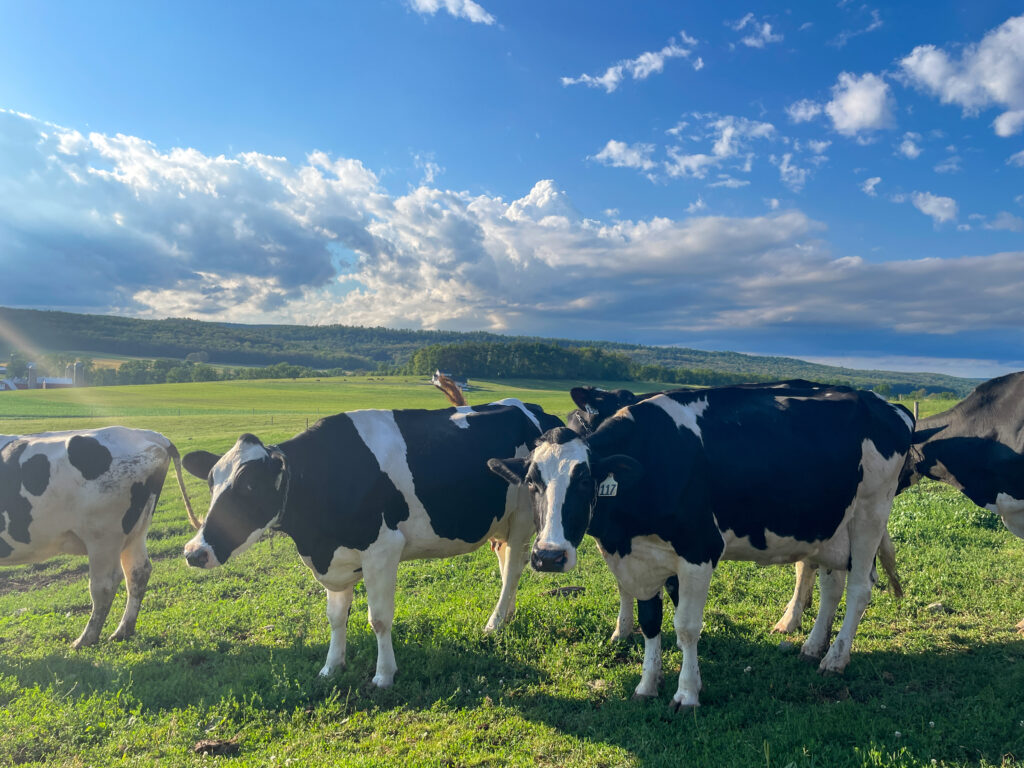 Hear what some of our customers have shared in their reviews of Goot Essa:
"Tasted several samples and loved every one. The quality of their cheeses surpassed my expectations. The owner was so nice and spent the time taking us on a tour. I highly recommend this place."
Karen Willar: "Excellent selection of cheese. Tasting of various cheese lead to the purchase of 6 different kinds. The blue cheese is my favorite. Thanks for a fun outing to Goot Essa…which translates to Good Food. And yes, it sure is good!"
Nancy Quarella: "The cheeses are absolutely delicious, and we enjoyed being guided through a tasting, like at a winery. Prices are very reasonable, and we brought home 9 different kinds. Looking forward to sharing them with friends."
— Rusty Barr
Written by Sean Yoder
---