Give the gift of delicious taste this Christmas season with Goot Essa's cheese gift baskets. Choose from small, medium, and large baskets featuring our artisan cheeses, as well as jams, spreads, mustards, fudge, and meats. You can also buy individual products or customize a gift basket to make it the right fit for your needs.
Goot Essa is based in Howard, Pennsylvania, and produces a variety of cow, sheep, and goat cheeses from local Central Pennsylvania farms. Our process is simple: we use high-quality milk from our five family farms and combine it with salt and enzymes to produce small batches. We then age it in our cheese cave right on site. Come visit our retail store from 8 a.m. to 4 p.m. Monday through Friday and Saturday from 10 a.m. to 4 p.m.
Our cheeses, jams, spreads, and sweets make excellent gifts to friends, family, and coworkers. A Special Touch of Christmas is one of our small gift baskets. For $28, this basket features a 6-ounce Der Edel Bleu Kase and 4 ounces each of Mountain Valley Sharp Cheddar and Old German Weissa Kase. These are paired with 1.5-ounce jars of Sweet & Spicy dipping mustard, Autumn Dawn Apple Butter, and Dutch Treat Red Beet Raspberry Spread. A large gift basket such as Country Pleasures is a great addition to any holiday party. This basket features nine different cheeses, four spreads, and two fudges for $95.
If you know the tastes of your gift recipients, find a complete list of our cheese blocks and their flavor notes to pick the perfect assortment for your loved one. To see how to pair our cheeses, and for recipes, check out our recipes and pairings pages at gootessacheese.com.
Our cheese subscription will keep the gifts coming. Choose from 3, 6 or 12 months. Each month's shipment will include some of our cheeses along with a condiment that compliments the cheese selection. 
We also offer an easy business gifts program that is sure to delight your clients, employees and coworkers. Goot Essa can send the same customizable gift assortment from 1 to 1,000 separate addresses. We offer personalized gift tags and can include your own promotional material in the basket. We know the holiday season can be hectic, so we want to make the business gift-buying process as easy as possible. Volume discounts will apply to large orders. To learn more about the business gifts program, contact Steven at (814) 482-1353, or send an email to gootessacheese@gmail.com.
Our staff-recommended assortments
We asked members of our staff to pick their favorite assortments and tell us why they like them.
Fannie Mae—Cheesemaker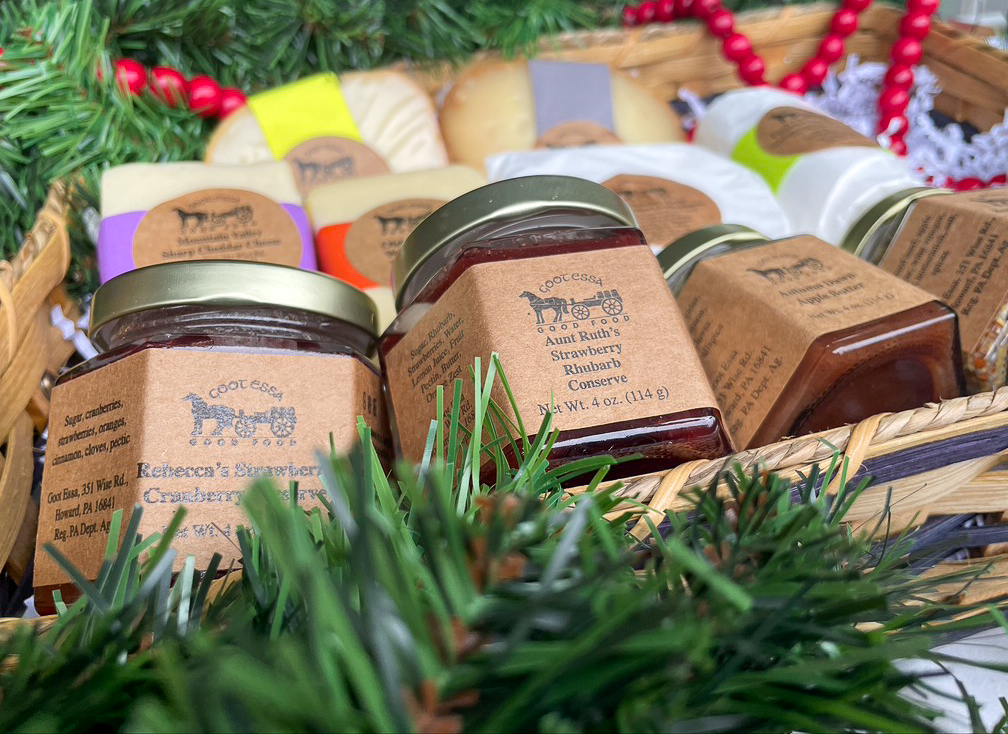 A Cheesemonger's Holiday Picnic
"It has my favorite cheeses, Felsa Yehr and Mutterschaf, in a beautiful picnic basket."
Jacob—Order Fulfillment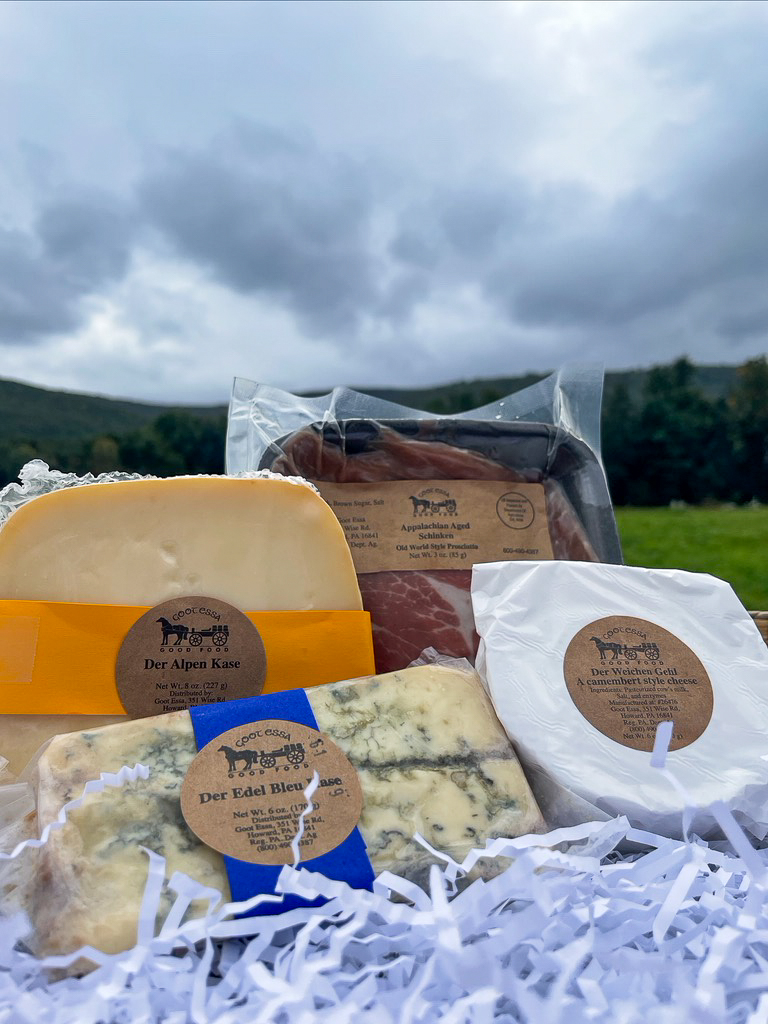 "I picked this assortment because I love the Alpen Kase with the aged schinken, and I can always use another cutting board." (Aged schinken is an old world style prosciutto.)
John L.—Bottlewasher, Owner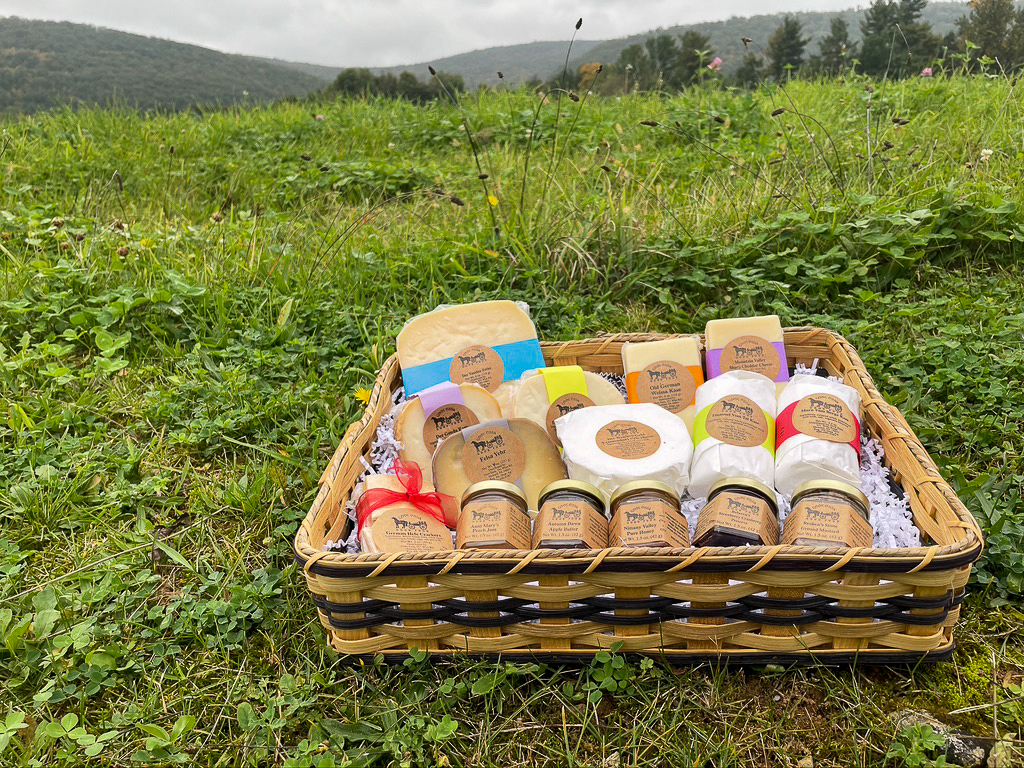 "This assortment has everything that I, a Pennsylvania native, enjoys: soft cheeses, hard cheeses, cheddar, gouda, camembert, with my favorite homemade accompaniments and crackers."
Rachel—Cheesemaker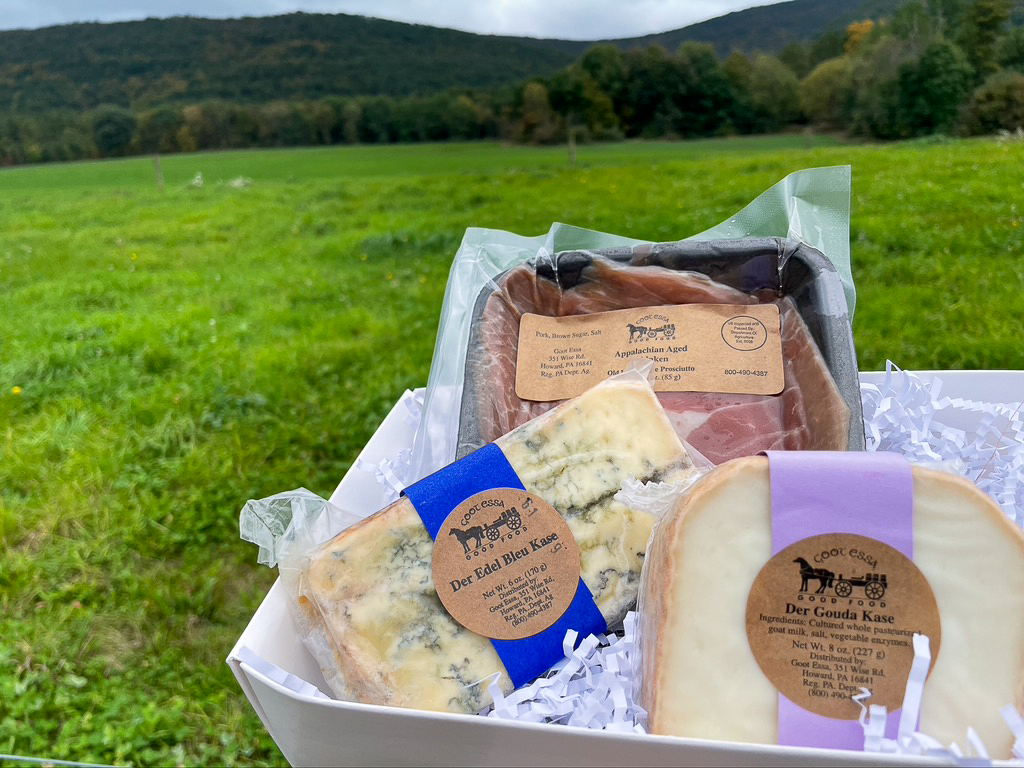 The Cheesemonger's Hostess Gift
"My favorite gift when going to a family gathering is gouda cheese with the aged prosciutto and some bleu cheese, all on a homemade cutting board—it works every time!"
Annie Mae—Packing Manager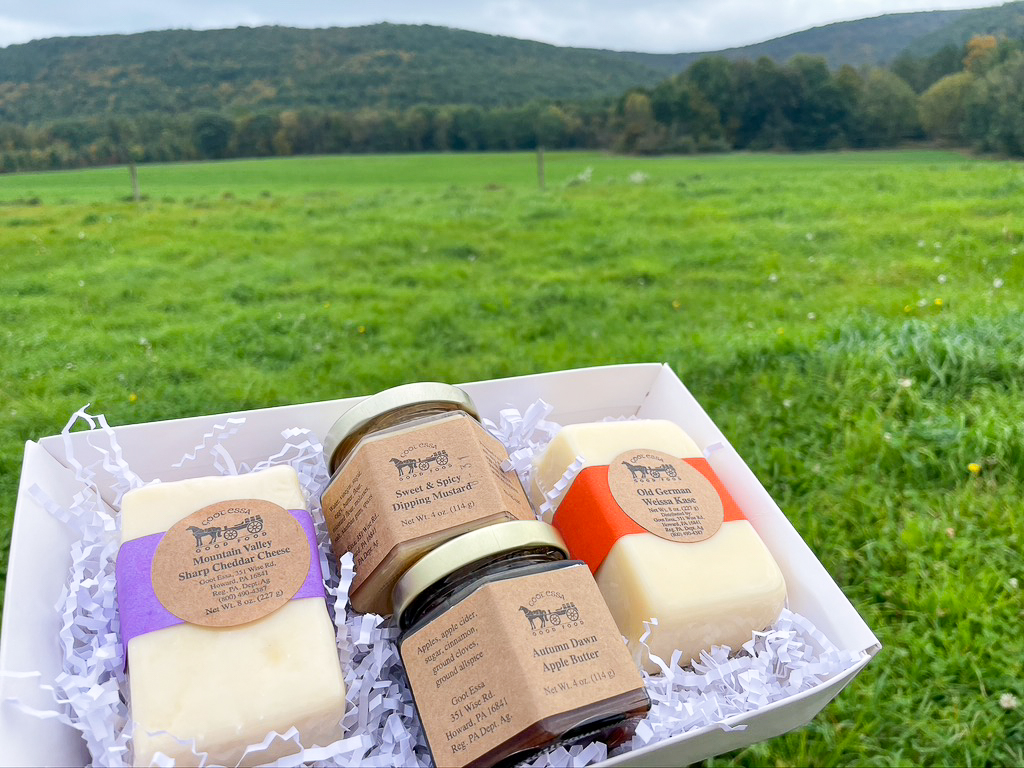 "This gift has my favorites — Mountain Valley Sharp Cheddar and spicy mustard, Old German Weissa Kase and Autumn Dawn Apple Butter. The perfect gift with good taste!"
John B.—Shipping Manager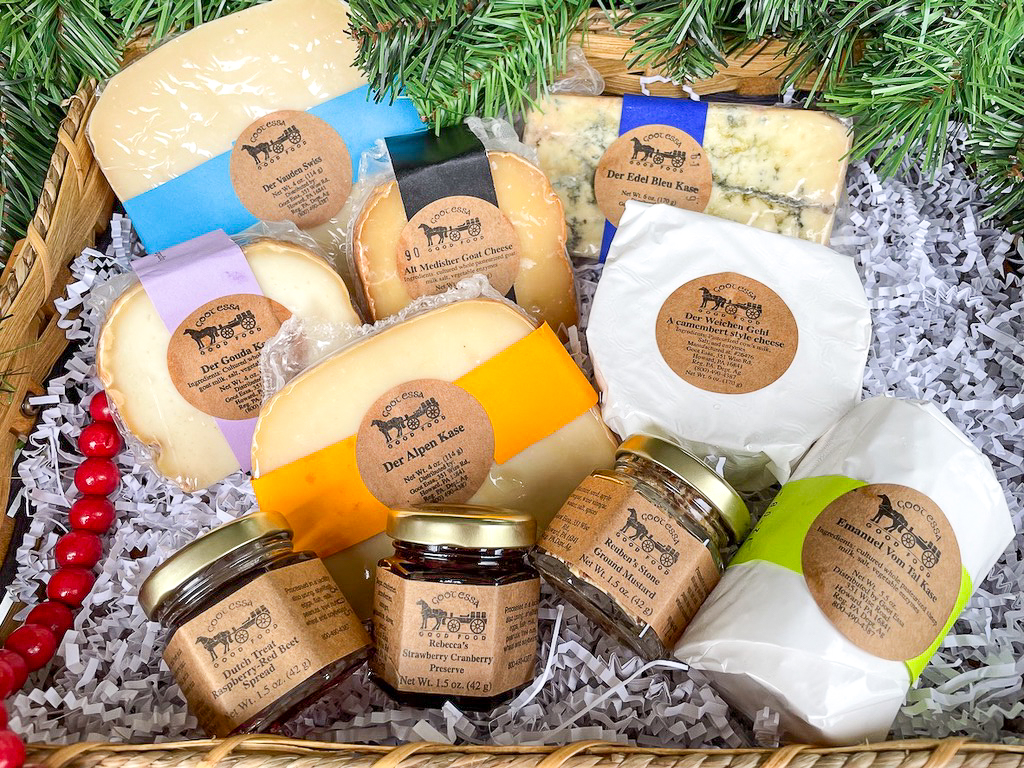 A Cheese Aficionado's Collection
This gift is my choice for the foodies on my list that expect the best! I always get rave reviews and smiles of appreciation!"
---